The Monkees subversive masterpiece 'Head' raises new questions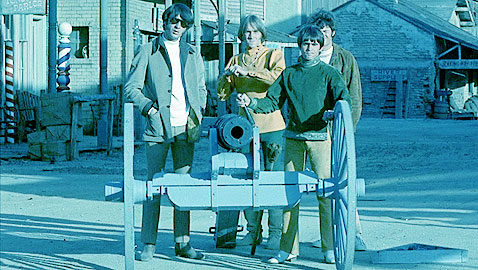 I was watching the colossal cult classic 'Head' starring the Monkees on Turner Classic Movies the other night, and found myself getting in one of my typical mega-funks over the current state of what passes for culture nowadays. Around the time 'Head' was made, the Monkees popularity had nosedived over the fact that they didn't play their own instruments and the revelation that they'd essentially been a concept borne from the noggin of director Bob Rafelson in order to cash in on some that rock'n'roll action that the kids seemed to be digging so well.
Despite their pre-fabricated origins, the Monkees were pretty damned great. They were charming, bright, funny, and they could sing their asses off. They became an instant smash with TV audiences and sold millions of records. Funny thing was, they became dissatisfied with being forced to record other people's songs and the cartoonish image that Rafelson and the network machinery had carefully constructed for them. Ultimately they rebelled against these constraints, and things began to fall apart. When it was finally leaked to the public that they were in fact merely a concept and not a 'real band' their fate was sealed.
As a response to all of this, they made 'Head'; an abstract, trippy commentary on the nature of conceptual reality and their struggle to be taken seriously as real artists while fighting to break free of their scripted identities. Written by Bob Rafelson and a then unknown Jack Nicholson, 'Head' is filled with amazing music and strange surrealistic vignettes which utilized war imagery as metaphor for the crass commercialism of the day while cleverly busting through the 4th wall time and again – nearly a decade before Woody Allen was praised for it in 'Annie Hall'. It's a fantastic film, and it was the final nail in their coffin.
Unfortunately, they wound up totally alienating their core TV audience, and failed to pick up any of the 'artsier' crowd they were hoping to convert.
All I could think about while watching 'Head' was how something like it could never happen today. Could you imagine some pre-fabricated tweeny-bopper 'band' like One Direction rebelling against the constraints of their machinery and releasing a subversive art-house movie in order to smash their well-constructed and lucrative image to smithereens in the hope that they'd be taken seriously as artists? Sure, you often see transitioning tartlets like Miley Cyrus and Selena Gomez sex it up  in order to garner an older audience, but that's about sex…not art.
Thing is, these machinations are something to be celebrated nowadays. No one gives a rat's ass whether or not One Direction knows how to play their instruments, or whether they write or even sing their songs. Their meticulously crafted image is taken at face value and their commercial success is lauded. Try making a nasty remark about them – or any well-known celebrity of their ilk – on Twitter and the most likely response you'd receive from their fans would be something along the lines of, "You're just a hater because they're so popular and they sell so many albums, and you're just a big fat loser and you'll never be as rich and fabulous as they are."
Pretty much guarantee you'll never hear anything about art.
This leads to the question, "Where has the art gone in our art?"
Sad to say it's nowhere to be found. Today's starry-eyed tweeners aspire to become scripted. They dream to someday become unreal. They'd sell their souls to sell their souls.
Fortunately for me however, there's more than enough art in the archives to keep me fortified until I croak. As long as there are stations like Turner Classic Movies for fogies like me, the sad state of what passes for culture nowadays will have absolutely no effect on me. I'll just hunker down in my societal fallout shelter, with my vinyl records, old movies and a bottle of scotch, and keep the faintest glimmer of hope curling and dancing in the recesses of my mind that perhaps someday the paradigm will shift once again, and free will might once again rule the world.